The Deer Crossing Difference
A great summer camp experience means that you get a good match between a camper's needs and what a camp has to offer. A summer at Deer Crossing means:
Lots of personal attention. A maximum of 50 campers per session means we get to know you. By name. Our activity offerings are designed daily, based on the interests and needs of each camper.
Character building. Deer Crossing campers are well adjusted youth who thrive on challenge. One of those challenges is leadership and campers learn that true leaders first learn to lead themselves. Our program is designed to promote character traits associated with leadership: positive attitude, empathy, courage, persistence, and responsibility.
Instructional depth. Using a time-tested system of reinforcing feedback and working with multiple learning styles, Deer Crossing instructors bring out the best in campers. A camper can start, never having seen a windsurfer, and progress to full lake hot-dogging racer. This goes for climbing, sailing, kayaking, canoeing … The depth of instruction allows campers to return year after year and progress in their chosen skills.
Real wilderness. Deer Crossing is the only lodge-based, roadless, wilderness summer camp in California. The camp is only accessible by boat or a 45-minute hike from the nearest trailhead. We enjoy a lake at our front door, peaks rising to over 9,000 feet at the back door, and 100 square miles of national forest around us.
Family. Deer Crossing is a second family for many campers. Those who first come for two weeks find themselves returning year after year. Lifetime friendships are made. Many of our instructors are former campers. Even when campers grow into adults and start their own careers, they often return to Deer Crossing to visit and recharge their great memories.
About Us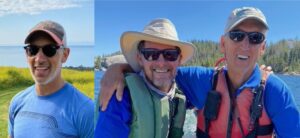 Deer Crossing Wilderness Camp is owned and operated by Doug Fischer (Camp Director) and John Ellis (Director of Operations). Deer Crossing was founded in 1983 by Jim Wiltens, who served as Co-Owner and Camp Director through 2022, and his family. Jim's wife Ellen McNeil ran the camp office from 2013 through 2022. Camp's original mission—to help children build resilience and independence while having fun and learning new skills in an outdoor environment—still drives camp today. Jim has written several articles that reflect camp's philosophy.
Since 1985, Deer Crossing has been accredited by the American Camp Association (ACA). We adhere to a rigorous set of standards that

covers virtually everything we do before, during, and after camp. ACA standards range from staff hiring and supervision to lifeguard training, from bus transportation to kitchen cleanliness, and from backpacking safety to parent communications.
"Here at Deer Crossing, your life changes. You learn about yourself and about other people. It creates a positive attitude. I first came here when I was 9. I am now 11 and think I will be coming here for the rest of my life."
– Hannah H, camper 2001–2007, LIT 2008, staff 2010-2013, Asst. Director 2014

"Three years ago, I stepped out from the bus, looked around, and shrugged, 'How will I ever survive here?' DCC has pushed me. Things that scared me became my friends. The people and the atmosphere are the most unique that I have ever experienced. Never give up. Always have a smile. So how am I doing today? 'Super good and getting better!' DCC has changed me in ways I never would have imagined."
– Dasha Y, camper 2001–2003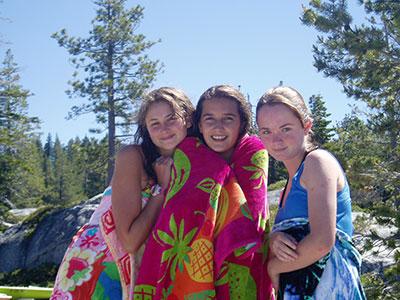 Deer Crossing has attracted campers and staff from around the world since 1983. We're proud to offer an experience where so many different talents come together each summer. We foster an atmosphere that encourages leadership qualities in all campers, starting with techniques for leading themselves. Many campers enter camp's Counselor-in-Training (CIT) and Leader-in-Training (LIT) courses, which offer more focused and intensive practice of leadership skills.