Staff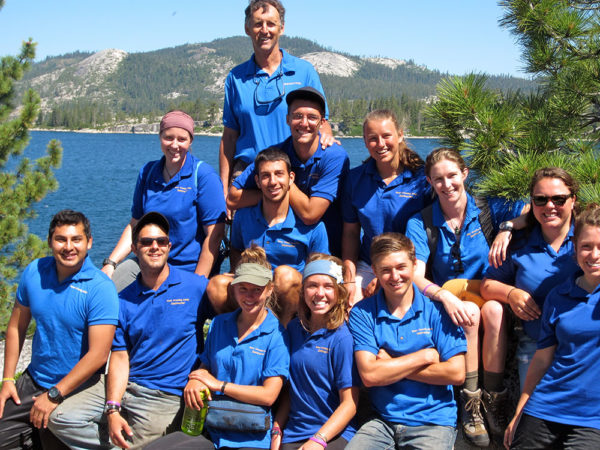 Each year, Deer Crossing assembles and trains enthusiastic young adults who possess skills and talents that enhance campers' wilderness experience. Some come from colleges and universities throughout California and the U.S., and others from overseas, including Europe, Asia, Latin America, Australia, and New Zealand. All have something special to offer the campers at Deer Crossing, and they're dedicated to bringing the best out of campers and themselves.
All staff complete applications and are interviewed in person or via Skype video by the camp owners. We check references through phone interviews and/or written questionnaires and Facebook pages. International staff submit local police background checks and U.S. staff complete full background checks, including criminal history. Every member of the staff is checked against the Nationwide Sex Offender Database, every year.
Our instructors are qualified beyond the standards set by the State of California and the American Camp Association. They complete an intensive nine-day training course prior to camp and are certified in Professional CPR, Standard First Aid, and Wilderness First Aid as well as American Red Cross lifeguarding with advanced waterfront training. Some staff arrive already certified as Wilderness First Responders (WFRs) or EMTs. Each instructor is responsible for the 24-hour-a-day safety, well-being, and happiness of the campers.
Program staff at Deer Crossing are called "Instructors" for a reason—they are not typical camp counselors. We hire instructors who can teach beginning to advanced classes in their area of expertise (e.g., sailing, rock-climbing), who have counselor capabilities, and who want to work with youth. Staff are highly trained and create a positive impact on the lives of young people and each other.
"Deer Crossing is a life-altering experience for campers and instructors alike. After seven years as a camper at DCC … my purpose this summer was to make DCC as memorable for these campers as the place has been for me. I walk away from DCC a stronger, more confident person, happy that the campers I've instructed walk away with the same feelings of accomplishment."

Evan T, camper 1994–2000, Instructor 2002
Meet the Staff
Assistant Director
Elizabeth "E" Croft, Assistant Director, returns this summer to help lead the team and direct the Counselor-in-Training (CIT) program. Originally from Florida, E now proudly holds a MA in Recreation Administration from Eastern Washington University. She taught rock-climbing and canoeing at Deer Crossing in 2016 and looks forward to another summer of fun in the sun on Loon Lake.
Tree-Climbing Instructor
After five years as a camper, Daria returns this summer as a Tree-Climbing Instructor and backpacking guide. She looks forward to using her experience as a Deer Crossing LIT and GIT to motivate campers go higher in trees and farther down the trail on out-trips. With a special interest in all things bug-like, Daria heads to Swarthmore College this Fall to study biology.
Rock-Climbing Instructor
A woman of many talents, Hayley joins us from New Zealand to teach rock-climbing and archery, and guide backpacking trips. She loves the out-of-doors and is enthused to share her passion with campers, both in classes and on the trail. A graduate of the University of Auckland in Mechanical Engineering, Hayley has excelled as a microfabrication engineer yet she looks forward to time in the wilderness.