Staff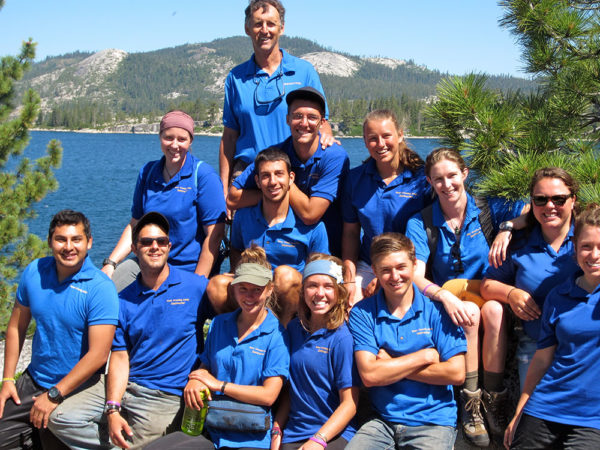 Each year, Deer Crossing assembles and trains enthusiastic young adults who possess skills and talents that enhance campers' wilderness experience. Some come from colleges and universities throughout California and the U.S., and others from overseas, including Europe, Asia, Latin America, Australia, and New Zealand. All have something special to offer the campers at Deer Crossing, and they're dedicated to bringing the best out of campers and themselves.
All staff complete applications and are interviewed in person or via Zoom by the camp owners. We check references through phone interviews and/or written questionnaires and Facebook and LinkedIn pages. International staff submit local police background checks and U.S. staff complete full background checks, including criminal history. Every member of the staff is checked against the Nationwide Sex Offender Database, every year.
Our instructors are qualified beyond the standards set by the State of California and the American Camp Association. They complete an intensive 12-day training course prior to camp and are certified in Professional CPR, Standard First Aid, and Wilderness First Aid as well as American Red Cross lifeguarding with advanced waterfront training. Some staff arrive already certified as Wilderness First Responders (WFRs) or EMTs. Each instructor is responsible for the 24-hour-a-day safety, well-being, and happiness of the campers.
Program staff at Deer Crossing are called "Instructors" for a reason—they are not typical camp counselors. We hire instructors who can teach beginning to advanced classes in their area of expertise, such as sailing or rock-climbing. They all have counselor capabilities and want to work with youth. Staff are highly trained and create a positive impact on the lives of young people and each other.
"Deer Crossing is a life-altering experience for campers and instructors alike. After seven years as a camper at DCC, my purpose this summer was to make DCC as memorable for these campers as the place has been for me. I walk away from DCC a stronger, more confident person, happy that the campers I've instructed walk away with the same feelings of accomplishment."

Evan T, camper 1994–2000, Instructor 2002
Meet the Staff
Assistant Director
In 2017, Connor taught Deer Crossing campers rock-climbing, archery, and canoeing. This year, he returns as Assistant Director, bringing his special sense of humor and fantastic sense of fashion! A graduate of Washington State University with a degree in Earth and Environmental Science, this geologist brings his textbooks to camp so he can inspire the next generation with a love of everything rock.
Kayaking Instructor
From Spain, Celia has a degree in and works as a "social educator", helping diverse groups of children from different social and cultural backgrounds find commonality and get along. At DCC, she will teach kayaking and improv comedy, infusing classes with her acting skills, social awareness, and love of the out-of-doors. Ask her about backpacking along the Camino de Santiago.
Rock-Climbing Instructor
Julian hails from Colombia where he is co-owner of a climbing center in Bogotá. This will be his second year at DCC as a rock-climbing instructor. He will also teach technical tree-climbing this summer, helping campers scale new heights on bark as well as granite. Already armed with a degree in sports and recreation, Julian hopes to obtain a master's degree in the future.
Windsurfing & Kayaking Instructor
Nic has Deer Crossing in his blood since his parents met here as staff. He's been a camper and completed DCC's rigorous Leader-in-Training program. This year, Nic returns to teach kayaking and windsurfing. A native of England, Nic has backpacked many times in Desolation Wilderness, both as camper and with family. Watch for his 2nd degree Black Belt karate skills at campfire!
Arts-and-Crafts Instructor
Hanna brings her infectious passion to DCC's arts-and-crafts activities this summer, with skills in drawing, watercolors, clay and wood sculptures, and block printing. She loves combining random items to create something new. A native of Germany, Hanna believes that if you can imagine it, you can make it. She also plays volleyball, so you might want a spot on her team after dinner.
Rock-Climbing & Guitar Instructor
Founding member and guitar player in The Battery Powered Blues Band. Math PhD. Fusion dancer. Rock-climber, from Kyrgyzstan to Brasil. Inspired years ago by photos of the Incredible Hulk climbing in the Sierras, Ian leaves England behind to do the same as a rock-climbing instructor at DCC this summer. Hopefully, he won't need to put on his ski instructor hat at camp!
Kayaking Instructor
Bry comes to us from Wales, where she studies Outdoor Ed. With a background in kayaking and sailing, she'll be on Loon Lake a lot teaching classes and lifeguarding Open Beach. You might also find Bry in the crafts room, drawing or watercolor painting. With her retail experience, she might also help campers pick out the perfect DCC teeshirt or water bottle at the camp store!
Rock-Climbing Instructor
A California native, Tyler has a BS in Earth Sciences and a love of rock, so he'll be teaching … rock-climbing! A man of many talents, Tyler is learning to play the banjo, enjoys surfing, was captain of an ultimate frisbee team, and has studied how flowers adapt to climate change. His favorite summer job was as a counselor for a group of 5-year-olds--we hope a summer at DCC will change that!
Canoeing Instructor
During high school, Bree was a member of the Australian Army Cadets and she still teaches in the corps. She brings her outdoor skills learned as a cadet to DCC to teach canoeing, orienteering, survival skills, backpacking, and more. Bree loves adventure, wants to own her own camp, and looks forward to living in the High Sierra "bush" this summer. Do you know what a mud map is?
Rock-Climbing & Archery Instructor
Where do we start? She hiked the 2650-mile Pacific Crest Trail. Has a degree in Anthropology. Teaches Outdoor Ed and Archery. And she's following her bliss as a rock-climber and certified climbing instructor by coming to DCC to teach rock-climbing. From England, Emily says "I have seen the impact that outdoor activity can have on a person's life and well-being."
Rock-Climbing Instructor
As a kid in North Carolina, Charlie "lived for camp" and this year, he'll help DCC campers get that same feeling as a rock-climbing instructor. Having climbed in the Southwest and across Europe, and with a degree in geology, Charlie will help us all better understand the granite that surrounds camp. Charlie enjoys kayaking and loves to wake up early to beautiful sky and fresh air.
Windsurfing & Guitar Instructor
Elena hails from Spain where she started windsurfing at age 8 so she could go with her dad and big brother. Now studying biomedicine in university, she loves accompanying singers on the guitar, whether her sisters or her church choir. She plays the piano and violin, is learning the cello, has studied skating and ballet, and has competed in rhythmic gymnastics and chess. Elena looks forward to a summer free of electronic devices at DCC!
Kayaking Instructor
Joanna comes from Sweden to DCC this year, with a passion for the water and being in nature. She's kayaked since she was 14 and has taught children to paddle for several summers. She's already used to the USA since she spent a year as a high school exchange student in Maryland! An adventurer at heart, Joanna spent 4 months backpacking around Australia and has an impressive yoga backbend.
Canoeing Instructor
As a middle-schooler in England, Jack learned to canoe from his dad, often camping overnight along local canals. In addition to canoeing, Jack enjoys playing tennis and Dungeons and Dragons with his younger brother. To date, he's most proud of the 9 months he spent working, traveling, and snowboarding in Canada last year. Teaching at DCC is his next big adventure and his first time in the USA.
Cook
Ania returns to DCC this summer as one of our two cooks, bringing her warm smile, caring attitude, and kitchen talent. In Poland, she is studying for a Master's degree in Finance and Accounting. At camp, she'll be whipping up spaghetti, burritos, and pancakes for hungry campers. In her free time, you'll find Ania spearheading a wild game of volleyball or practicing her windsurfing skills.
Maintenance
Marco returns to camp for a second year as DCC's multi-talented, one-man maintenance team. An industrial engineering student in México, he studies the task, makes sure he understands what the goal is, and then gets to work--no matter what we throw at him. Thanks to Marco, there's a beautiful new storage building behind the Springhouse for storing camp supplies.
Cook
Monse joins DCC's kitchen team and will be cooking delicious meals for DCC campers and staff. In Mexico, she's worked in two different restaurants and now devotes her time to studying industrial engineering. Monse worked at an East Coast camp last year, and looks forward to a DCC summer full of outdoor adventure, new activities, and the happy faces of well-fed campers.