Staff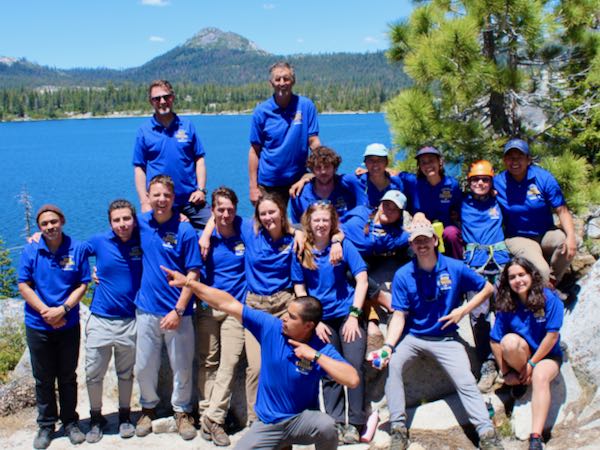 Each year, Deer Crossing assembles and trains enthusiastic young adults who possess skills and talents that enhance campers' wilderness experience. Some come from colleges and universities throughout California and the U.S., and others from overseas, including Europe, Asia, Latin America, Australia, and New Zealand. All have something special to offer the campers at Deer Crossing, and they're dedicated to bringing the best out of campers and themselves.
All staff complete applications and are interviewed in person or via Zoom by the camp owners. We check references through phone interviews and/or written questionnaires and Facebook and LinkedIn pages. International staff submit local police background checks and U.S. staff complete full background checks, including criminal history. Every member of the staff is checked against the Nationwide Sex Offender Database, every year.
Our instructors are qualified beyond the standards set by the State of California and the American Camp Association. They complete an intensive 12-day training course prior to camp and are certified in Professional CPR, Standard First Aid, and Wilderness First Aid as well as American Red Cross lifeguarding with advanced waterfront training. Some staff arrive already certified as Wilderness First Responders (WFRs) or EMTs. Each instructor is responsible for the 24-hour-a-day safety, well-being, and happiness of the campers.
Program staff at Deer Crossing are called "Instructors" for a reason—they are not typical camp counselors. We hire instructors who can teach beginning to advanced classes in their area of expertise, such as sailing or rock-climbing. They all have counselor capabilities and want to work with youth. Staff are highly trained and create a positive impact on the lives of young people and each other.
"Deer Crossing is a life-altering experience for campers and instructors alike. After seven years as a camper at DCC, my purpose this summer was to make DCC as memorable for these campers as the place has been for me. I walk away from DCC a stronger, more confident person, happy that the campers I've instructed walk away with the same feelings of accomplishment."

Evan T, camper 1994–2000, Instructor 2002
Meet the Staff
Assistant Director, Rock Climbing & Kayaking Instructor
Kaya is excited to be back as part of our leadership team. This will be her 9th summer on Loon Lake having started as a camper, then excelling in our Leader In Training program, and now 4 years teaching many activities, especially kayaking and climbing.
Assistant Director, Windsurfing & Kayaking Instructor
Shaun is returning from New Zealand to join our leadership team nine years after he first taught windsurfing on Loon Lake. Since then he has traveled around the world and been guiding kayaking expeditions down south. Shaun is also an accomplished builder and will be working alongside Marco on facility upgrades.
Windsurfing & Kayaking Instructor
Nic has Deer Crossing in his blood since his parents met here as staff. He grew up backpacking in Desolation Wilderness and completed DCWC's rigorous Leader-in-Training program prior to working as an instructor and assistant director. This year, Nic returns on our leadership team and will teach kayaking and windsurfing. Nic is finishing his engineering degree in the Netherlands.
Technical Tree Climbing & Kayaking Instructor
Grace is returning for a second year to teach kayaking and technical tree climbing. In case you are unfamiliar with this favorite Deer Crossing activity, campers learn to climb into the canopy of Jefferey pine trees by climbing the ropes (not the tree). Grace is a world adventurer so far kayaking and climbing on four continents. Ask about her recent trips through Canada and the Philippines!
Technical Tree Climbing & Kayaking Instructor
Timur grew up spending summers at camp and completed our Leader-In-Training program. Having long-since mastered rolling a kayak without a paddle, he's hoping to master the "Houdini roll" this summer (with arms tied into his life jacket). Timur looks forward to training campers to reach the tops of our Jeffrey pines.
Sailing Instructor
Leo is returning from Ireland for another summer of racing Lasers around Loon Lake. A frequent combatant and sometimes champion in Privateers (tennis ball sailboat tag), Leo has a wicked pitching arm. His comedic impersonations have kept us in stitches for hours.
Canoeing Instructor
Matic came from Slovenia to Deer Crossing years ago as a camper. Older alumni may remember his mother Natasa, a long-time everything-instructor at camp. Matic is returning to pass along some of the old stories and skills. He is as at home in the water as on land and notes that Loon Lake is nicer swimming even than his home waters of the sparkling Adriatic.
Rock/Tree Climbing and Windsurfing Instructor
This is Colleen's ninth summer at Deer Crossing as a camper, LIT, and now three-time climbing Instructor. You'll usually find Colleen wearing their harness and helmet, whether coaching a camper to eagle's nest at the top of a massive pine, belaying a climber on vertical granite, or running evening hide and seek. Their harness may come off to teach windsurfing, but not the helmet! "Safety First!"
Canoe and Kayak Instructor
Leila is returning to paddle Loon Lake for a second summer and is looking forward to more epic games of Pirates and Galleons (canoe tag). They study Civil and Environmental Engineering at Princeton.
Rock Climbing and Arts and Crafts Instructor
Naomi has grown up adventuring in the Sierras. She has skied in Mammoth since she was young, and has enjoyed many camping adventures in and around Yosemite National Park. Naomi worked at DCWC part of last summer and is looking forward to a full summer helping campers create art in between challenging themselves on our bouldering circuit and larger climbs. She is studying Feminist, Gender, and Sexuality Studies at Wesleyan University in Connecticut.
Arts and Crafts Instructor
Maria comes to Deer Crossing with a passion for teaching art, and she has extensive experience in drawing, sketching, painting, and jewelry making. In Mexico, she is studying for a degree in industrial engineering.
Arts and Crafts Instructor
Calais has grown up exploring the Sierras, backpacking and swimming. Whether teaching crafts or games at open beach, Calais keeps an eye out for birds and plants to teach to campers. She loves teaching performing arts like acting, improv, and voice, helping campers hone performances for campfire. Calais is studying Environmental Science at Wesleyan University.
Archery, Canoeing & Kayaking Instructor
Ciana grew up kayaking the lakes, rivers, and sea coast of Ireland. She took an early interest in archery and continues to shoot regularly at her university. Ciana also speaks Irish (Gaelic) and coaches Gaelic Football in the off season.
Kayaking & Rock Climbing Instructor
Jamie comes to us from northern England where he grew up sea kayaking and scrambling the countryside. Before and while earning a Master's in mechanical engineering, Jamie spent years developing his kayak and climbing skills. He looks forward to sharing his passion for the outdoors with campers.
Sailing & Rock Climbing Instructor
Liam joins us from Ireland where he has been training and teaching at outdoor adventure centers. He is skilled at teaching many of our activities, and expects to teach his campers some new tricks when playing Privateers.
Head Cook
Mago returns this summer as our head cook, bringing her warm smile, caring attitude, and kitchen talent. In Mexico, she is finishing her Bachelor's degree in Industrial Design in Xalapa. At camp, she'll be whipping up spaghetti, burritos, and pancakes for hungry campers. In her free time, you'll find Mago playing volleyball or down at open beach.
Cook
Ixba returns for a second summer cooking for hungry campers, bringing his infectious laugh and spontaneous dance moves. In Mexico, he is studying for a Bachelor's degree. At camp, he looks forward to perfecting his brownies and pineapple upside down cake. In his free time, Ixba entertains us with intricate guitar riffs (sometimes playing behind his head!) and plays kayak water polo.
Cook
Laura joins the kitchen team and will be cooking delicious meals for campers and staff. In Mexico, she's worked in two different restaurants and now devotes her time to studying industrial engineering. Laura worked at an East Coast camp last year, and looks forward to a Deer Crossing summer full of outdoor adventure, new activities, and the happy faces of well-fed campers.
Construction & Maintenance
Marco returns to camp for a fifth year as Deer Crossing's multi-talented, one-man maintenance team. An industrial engineering student in México, he studies the task, makes sure he understands what the goal is, and then gets to work--no matter what project we throw at him.