Transportation To & From Camp
There are two ways to get your camper to and from camp: (1) the camp bus; and/or (2) parent transportation.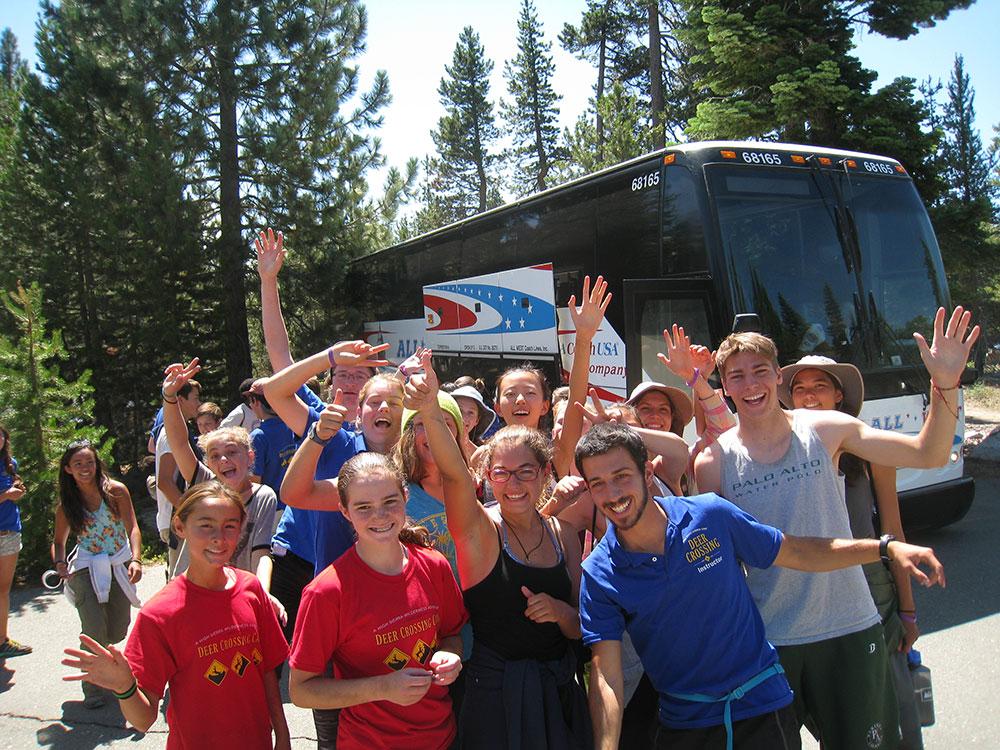 Camp Bus
Campers ride a comfortable, chartered bus accompanied by camp staff, with stops in Redwood City, Concord, and Sacramento. Seating is limited and taken on a first-come, first-served basis.
Everyone must wear a mask while on the bus. Campers taking the bus TO camp must bring a bag lunch for the stop in Sacramento. For campers taking the bus FROM camp, we provide bag lunches.
Please remember to sign your camper on and off the bus with the designated staff member.
Make sure to collect ALL of your camper's gear and medications!
Bus Stops
| City | Location | To Camp/Departure Time | From Camp/Arrival Time |
| --- | --- | --- | --- |
| Redwood City | Shinnyo-En USA, 3910 Bret Harte Drive | 8:30 AM | 5:30 PM |
| Concord | The Willows Shopping Center, 1975 Diamond Blvd., near the REI store. | 10:00 AM | 4:00 PM |
| Sacramento | Capitol Park, 1300 block of 15th St, between Capitol Ave and N St | 12:00 PM | 2:00 PM |
If you will be late, the bus to camp does not wait for late campers. If you miss the bus to camp, it is your responsibility to drive your camper to Loon Lake. If you miss the bus returning from camp, your camper will stay on the bus to its next stop. At the final Redwood City stop, camp staff will escort your camper to our nearby staff house to await your arrival. Call the Camp Office 650-369-4382 to arrange pick-up.
This year I'm a new timer. The very best part was that when I came, I knew nobody on the bus. In no time, I knew everyone's names and personalities thanks to the variety of activities at DCC.
-Sean C, 2008
Parent Transportation
Meeting Place: Loon Lake Boat Launch Ramp Parking Lot
Allow plenty of time to get to Loon Lake so you arrive on time. Due to the distance from the boat ramp to camp, staff do not wait at the boat ramp area for late arrivals.
Arrival: Sunday (first day of your session), 2:00 PM
Departure: Saturday (last day of your session), 11:30 AM
Driving Directions to Deer Crossing
Map to Loon Lake Boat Launch (printable directions and map, PDF)