Transportation To & From Camp
There are two ways to get your camper to and from camp: (1) the camp bus; and/or (2) parent transportation. One-week campers: Bus transportation is available only TO camp. Parents must pick up campers at Loon Lake at the end of the one-week session.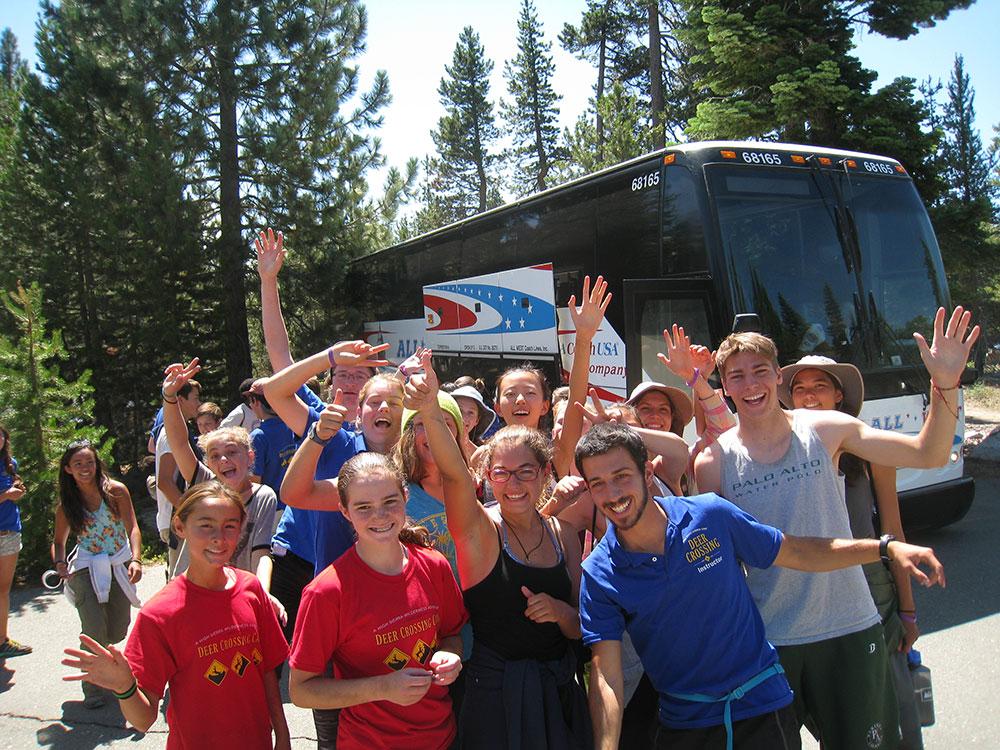 Camp Bus
The trip to and from camp is part of the fun of overnight camp. Campers ride a comfortable, chartered bus accompanied by camp instructors, with stops in Cupertino, Concord, and Sacramento. Seating is limited and taken on a first-come, first-served basis. The camp bus offers an opportunity to meet old-timers and friendly staff, talk with other first-time campers, find a tent mate, and begin feeling like a member of the camp community before arriving at camp. It's a gradual transition for campers from a familiar place and faces (home and parents) to an unfamiliar place and unfamiliar people (camp and new friends).
Please remember to sign your camper on and off the bus with the designated staff member.
Bus Stops
| City | Location | To Camp/Departure Time | From Camp/Arrival Time |
| --- | --- | --- | --- |
| Cupertino | De Anza College, Parking Lot B, off Stelling Road, near Stevens Creek Blvd. The bus (All West) will be parked in front of the solar panels. Here's a map of De Anza. | 8:30 AM | 6:00 PM |
| Concord | The Willows Shopping Center, 1975 Diamond Blvd., near the REI store. Exit 680 onto Willow Pass Road in Concord. Turn left onto Diamond Blvd to the Willows Shopping Center (on your left). Look for the bus near the REI store. | 10:30 AM | 4:30 PM |
| Sacramento (Rancho Cordova) | Pet Club, 2344 Sunrise Blvd at Zinfandel. Exit Highway 50 onto Sunrise Blvd. Go north on Sunrise, turn left on Zinfandel, turn right into Pet Club parking lot. The bus will be parked behind the Chevron station on the corner. | 12:30 PM | 2:00 PM |
If you will be late, the bus to camp does not wait for late campers. If you miss the bus to camp, it is your responsibility to drive your camper to camp. If you miss the bus returning from camp, your camper will stay on the bus to its next stop. At the Cupertino stop, camp staff will escort your camper to our Redwood City office to await your arrival. Call camp's Summer Emergency Number 650-465-5087 to arrange pick-up.
This year I'm a new timer. The very best part was that when I came, I knew nobody on the bus. In no time, I knew everyone's names and personalities thanks to the variety of activities at DCC.
-Sean C, 2008
Parent Transportation
Meeting Place: Loon Lake Boat Launch Ramp Parking Lot
Allow plenty of time to get to Loon Lake so you arrive on time. Due to the distance from the boat ramp to camp, staff do not wait at the boat ramp area for late arrivals.
Arrival: Sunday (first day of your session), 3:00 PM
Departure: Saturday (last day of your session), 11:30 AM
Driving Directions to Deer Crossing
PDF: Map to Loon Lake Boat Launch (printable directions and map)