Work at Deer Crossing Camp!
Canoeing. Kayaking. Rock Climbing. Sailing. Windsurfing. Arts and Crafts.
If you have a passion for rock climbing, sailing, canoeing, windsurfing, kayaking, guitar, archery, or art, and want to share that enthusiasm with children, Deer Crossing may be a great fit for you!
Deer Crossing will be one of the most challenging and rewarding experiences of your life. You will learn how attitude affects everything, and how to foster a positive attitude in campers and yourself. You will work hard and make new friends from around the world. If you are ready to challenge yourself and show young people how to challenge themselves, apply to join the Deer Crossing Camp team this summer.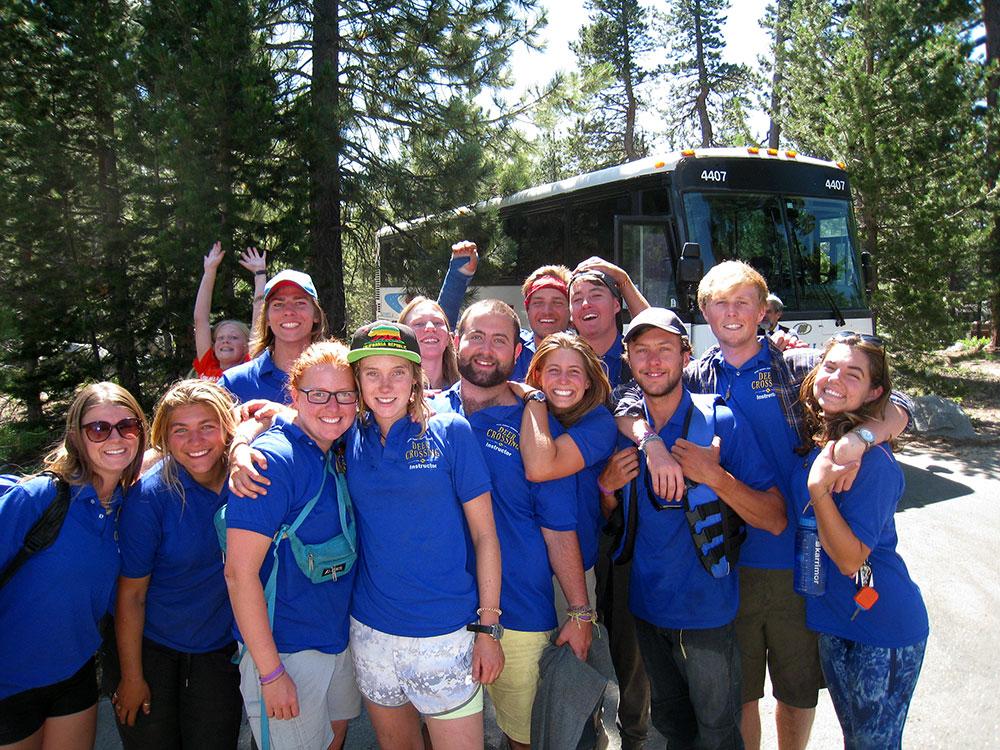 At Deer Crossing, we hire "Instructors" who can teach beginning to advanced classes in their primary skill area(s) and who also serve as camp counselors. We look for staff who have a solid foundation (i.e., 100+ hours of experience) in at least one of our core activities. Experience in backpacking, archery, guitar, and/or improv comedy, is an important plus. All staff must also have strong swimming skills; if not already a certified lifeguard, staff must be capable of being certified during staff training. Successful Deer Crossing staff are outgoing and friendly, high energy, adventurous, helpful, caring and thoughtful, and willing to follow the rules of our wilderness facility.
We also seek experienced cooking and maintenance staff. Contact the camp office for more information on these positions.
Deer Crossing Camp and USDA are equal opportunity providers and employers.
Staff Training
Before campers arrive, all staff participate in camp's staff training. Nine days of intense training cover topics ranging from camp safety and positive psychology, to teaching techniques and leading specific skill areas. If not already certified, instructors will be certified in:
American Red Cross Lifeguard, First Aid, & CPR for the Professional Rescuer
Wilderness First Aid
Certification costs are covered by Deer Crossing.
Desired Qualifications
18 years or older, preferably with at least 1 year of college
Experience in at least one (preferably two) of the following areas: Sailing, Canoeing, Windsurfing, Kayaking, Rock Climbing, Technical Tree Climbing, Guitar, Archery, or Arts and Crafts.
Experience in backpacking, survival skills, outdoor cooking, fishing, improv comedy is a plus.
Higher-level safety certifications valid through the summer season—such as Wilderness First Responder (WFR), Wilderness EMT, Wilderness First Aid (WFA) Instructor, American Red Cross Lifeguard Instructor, and other relevant activity certifications—earn you a bonus.
Benefits of Working at Deer Crossing
Beautiful High Sierra location and rustic wilderness facilities
Certification in Wilderness First Aid and American Red Cross Lifeguarding, at no cost to you
One full day (24-hour period) off per week, plus occasional activity periods and evenings
Easy access to backpacking trails, rock climbing, and lake activities on days off
Occasional wireless Internet access, usually 2–3 hours weekly (it is the wilderness!)
Opportunity to spend the summer in a mostly electronics-free environment, reveling in the richness of relationships built in person and the beauty of the forest around you
Opportunity to work with genuinely friendly, good-natured, active campers
Opportunity to work with a multi-national, diverse, talented staff
An average of 4 days of rain each summer
If you think Deer Crossing is a good fit for your skills and interests, complete the online application.
"Deer Crossing Camp offered such a unique set of challenges that I have grown in confidence and as a person. Working at Deer Crossing is like becoming part of a fantastic, adventurous family, and I have made both incredible memories and close friends!"
– Oliver H, Instructor 2013

"This was not a job but an experience. You learn so much, about yourself, about the world, about others, not to mention all the skills you pick up. I've gained such confidence over the past nine weeks. It's easy to say that something has changed your life. But this is so recognizable that I can already envision what things I will do differently when I return home. To the campers and instructors who have been here, remember me for I will remember you."
– Tom H, Instructor 2001–2002

"This was one of the best decisions of my life. I know it will affect me always. Thank you for the opportunity to become stronger, smarter, and more of a leader. More importantly, thank you for helping me to realize I could accomplish nine hard weeks in the wilderness, making differences in campers' lives."
– Marin LC, Instructor 2004

"It was the most extraordinary, hands-on learning experience possible."
– Ryan D, Instructor 2002